Shopping Cart
Your Cart is Empty
There was an error with PayPal
Click here to try again
Thank you for your business!
You should be receiving an order confirmation from Paypal shortly.
Exit Shopping Cart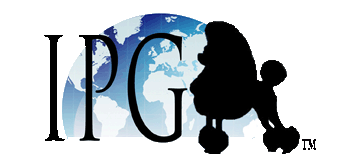 International Professional Groomers, Inc
Certification & Education for Pet Groomers, Pet Professionals
For information call 1-503-551-2397
Linda Easton, ICMG
Oregon

Linda is the President of the International Professional Groomers. As a competitive groomer, her wins include Best in Show and Best All-Around Groomer. Linda has been involved with dogs for over 50 years. She began training for the obedience ring then breeding & showing Basenji's, Australian Cattle Dogs, Poodles, and Cavalier King Charles Spaniels. She worked as a professional handler, finishing over 60 champions in many breeds, from Pekingese and poodles to Newfoundlands.
Linda's grooming career began in 1973, and since then, she has built 8 successful grooming salons. Her current grooming salon and self wash is at her horse ranch in Salem, Oregon.
As an educator and certifier for IPG, Linda travels all over the world certifying, Judging grooming competitions and giving workshops. Linda and Dr. Jim live on a 50-acre ranch and breed and show horses. Linda and Jim are also very involved in 4-H for horses.
ANGELA CLARK, ICMG
California
For over thirty years Angela has been successful in the professional pet industry. Angela started her path in the grooming business as a bather brusher. It was through dedication, passion, training, and obtaining a degree in Business, that Angela has been successful as the Owner/Operator of a profitable Grooming Salon and Retail store leading to her twelve year career with a National Pet Supply and Retail company. During the twelve years with the national company, Angela obtained valuable experience and knowledge in the retail grooming industry wherein she held the following positions: Salon Pet Stylist, Salon Manager, Grooming Training Center Manager, Regional Pet Services Manager and the National Mobile Service
DENISE McDONALD, ICMG
Washington
A second-generation groomer who started grooming at the age of nine years old. Denise has for may years assisted with a 4-H dog group. An active member of the Washington State Pet Industry Association. She was named "Groomer of the Year" in a 1977 Seattle Grooming contest and was first runner-up in 1978. In 1979 she promoted and directed a local WSPIA Grooming Contest. 1980 Denise earned Certified Poodle Groomer title in the first Professional Pet Groomers Certification test held in Des Moines, Iowa. 1982 Denise successfully promoted the first groomer's convention and certification testing in the Pacific Northwest, at which time she earned certification in the Sporting Breeds. 1983 she earned title of certified Terrier Groomer and status of Certified Master Groomer in Atlanta Georgia. 1984 PPGC INC. (now International Professional Groomers Inc.) elected Denise as Regional Director of the Pacific Northwest Region. 1987 achieved status of certifier for PPGC. Inc./ IPG INC. 1989 achieved status of Companion Animal Hygienist with WWPSA. 1990 Elected on the board for International Professional Groomers. 1991 took over the duty of treasure and membership comity for IPG Inc. Served for one and a half years. In 1992 won a major placement in a national grooming contest with a cocker spaniel. In 1994 won a second place (with an English Cocker) and a third Place (with a Wheaten Terrier) in a competition in BC Canada. In 2004 also in BC Denise won Two second placements in the advanced classes for Standard Poodle and Hand stripped terriers. To date is still an active Certifier for International Professional Groomers Inc.

KOMAKO TANAKA, ICMG
Koko's Paws Owner/Operator, NDGAA Certified Groomer, Groomteam USA member, IJA Judge, Grooming show Speaker http://kokospaws.com/
Gold, Silver and Bronze medals, as well as Multiple Best in Shows and Best All Around Groomer awards. She is a member of Groom Team USA (www.groomteamusa.com) 07 and 08, earned the privilege of representing the US in theWorld Team Grooming Championship in Germany in 2009. Winning the bronze medal in the hand stripping class, Koko helped her teammates bring home the team Gold for the US.
Koko was nominated for the Cardinal Crystal Achievement Award for American Groomer of the Year in '08. Since retiring from the competition ring, Koko has started mentoring advanced grooming students from Japan and has traveled as a speaker and Judge.Koko has been interviewed by major publishers for the grooming industry in Japan.
Pennie Stone, ICMG, ISCC PDS, MPS, Meritus

Owner of Pooch Parlor Mobile Day Spa. She has been a Contest Steward for APF and is Contest Coordinator for US Pet Pro Classic.

Her special intest in stress reduction for both people and pets lead her to become a Reiki Master.

Pennie is also a ISCC Petcare DermaTech Specialist and Master Per Stylist.

0

/